DON'T THINK SO MUCH-JUST DANCE !!!😎
MUSICIAN-PRODUCER-DJ-INDIE/SUPPORTER-PLAYLIST/CURATOR-HUSBAND-FATHER!!!


MUSIC MAKES LIFE EASIER...
I PRODUCE EDM/DANCE-POP/GERMAN-HIP HOP/
-Born in East Germany (GDR)
-grew up with the beats of the 80-90, with idols like RUN DMC -BEASTIE BOYS -AFRIKA BAMBAADAA-KRAFTWERK ...
and the best Movie ever-BEAT STREET🚨


-many years as a Breakdancer and DJ on the turntables in the region
-After a long family break, I've been back in my home studio for a few years and started to publish songs.
-my music generally has electronic influence and is based on what sounds good to me
-my inspiration are my family,my Severely disabled son and my fans and all good sounds 💯👍😎🚀
Content from Twitter can't be displayed due to your current cookie settings. To show this content, please click "Consent & Show" to confirm that necessary data will be transferred to Twitter to enable this service. Further information can be found in our Privacy Policy. Changed your mind? You can revoke your consent at any time via your cookie settings.
Consent & Show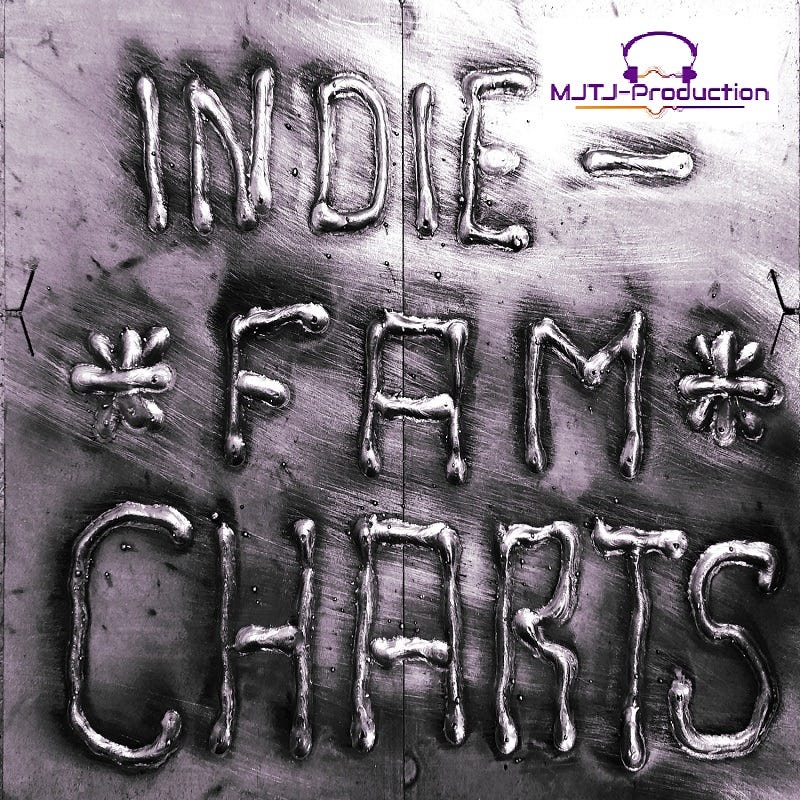 🚨NEXT : June 2023🚨
INDIE-FAM-CHARTS

➡SUBMIT YOUR SPOTIFY TRACK HERE


➡ COME INTO THE TOP 20📈

➡VOTE FOR YOUR INDIE FAVORITES- EVERY DAY‼


➡ win the coveted INDIE*FAM*AWARD 🏆

➡ SEE THE CHARTS ON A SPOTIFY PLAYLIST AND HERE ON THIS WEBSITE

➡PLACES 1-15 STAY IN ... (NO LONGER THAN 8 WEEKS)-



Every 7 days there is a between evaluation and presentation of the current charts on twitter.

the last 5 placed are eliminated every week and are replaced by new artists.

(you can resubmit afterwards)



➡Voting always starts on the 1st of a month and ends after 4 weeks ...you will be tagged personally on twitter and will receive the link for direct voting 📊

interim result ➡ every 7 days ‼
After the voting (end of the month) a jury consisting of curators, artists and sponsors will determine the winner of the INDIE*FAM*AWARD's (the winner will be chosen from the top 3 winners of the whole month) 🏆
🌟INDIE*FAM*AWARD 🌟

➡Participation only makes sense with a valid twitter handle‼
➡The charts are updated every Sunday...The weekly interim results will be presented on twitter and each participant will be tagged🌟

T he winner will receive the award personally at home.✈


➡he wins attractive
free promo from our sponsors
(see voting page)

it's really worth it and there are no costs for you 😱
Attention...

only 5 new submissions will be considered each week...you will be notified by peer twitter or email if you have made the charts.


Content from Spotify can't be displayed due to your current cookie settings. To show this content, please click "Consent & Show" to confirm that necessary data will be transferred to Spotify to enable this service. Further information can be found in our Privacy Policy. Changed your mind? You can revoke your consent at any time via your cookie settings.
Consent & Show
🌟INDIE*FAM*CHARTS🌟
Hello friends of good taste in Indie music.
here you can see and hear the participants of the INDIE*FAM*CHARTS at any time.
Find the best indie musicians in this weekly voting playlist. From #POP to #ROCK #HIPHOP to #ELECTRO music, every genre is represented here. New every week and always up to date...enjoy it 👍😎🔥


WIN THE INDIE*FAM*AWARD FOR INDEPENDENT ARTISTS 🏆
Current Ranking
🌟INDIE*FAM*CHARTS🌟 March 2023


PLAY MY -INDIE*FAM*AWARD-WINNER🏆
-INDIE*FAM*AWARD-WINNER
(28.09.22)
BOB WESTLAKE (UK)
Thanks for this incredible presentation 💥👑💥


PLAY MY -INDIE*FAM*AWARD-WINNER🏆
-INDIE*FAM*AWARD-WINNER (13.08.22)
XANDER 042 (USA)
-LOW-ROCK ENTERTAINMENT
CELEBRATES A MASSIVE VIDEO PRESENTATION 😱


NOW THE +INDIE*FAM*AWARD+ HANGS ON HIS
WALL OF FAME 🙌 IN HOUSTON TEXAS🏆...I LIKE IT💖


PLAY MY -INDIE*FAM*AWARD-WINNER🏆
-INDIE*FAM*AWARD-WINNER (09.07.22)
AKoustic Soul (INDIA)
INDIE *FAM*-FROM INDIA🙏
thanks for this great presentation my friend👍😎


PLAY MY -INDIE*FAM*AWARD-WINNER🏆
-INDIE*FAM*AWARD-WINNER (16.07.22)
AS Particles Collide (USA)
GREAT SHIRT...GREAT AWARD👑

Thanks for this great presentation buddy👍😎💯
PLAY MY -INDIE*FAM*AWARD-WINNER🏆
-INDIE*FAM*AWARD-WINNER
(05.03.2022)
Synthetik Blonde (Canada)
...greetings from
Canada to Germany😎...Thanks so much👑
PLAY MY -INDIE*FAM*AWARD-WINNER🏆
-INDIE*FAM*AWARD-WINNER
(02.04.2022)
Johnny & the Box (United Kingdom)
thanks for this presentation on
#twitter🙌💪
(09.04.2022)


PLAY MY -INDIE*FAM*AWARD-WINNER🏆
PLAY MY -INDIE*FAM*AWARD-WINNER🏆
-INDIE*FAM*AWARD-WINNER
(07.05.2022)
Sage Marie ( Australia )
40 days traveling... from Germany to Australia ✈
thanks for this great picture👑
PLAY MY -INDIE*FAM*AWARD-WINNER🏆
-INDIE*FAM*AWARD-WINNER
(14.05.2022)
The Arcades ( UK )
brilliant presentation🥳👏👏👏
thanks to UK👍😎👑


PLAY MY -INDIE*FAM*AWARD-WINNER🏆
-INDIE*FAM*AWARD-WINNER (20.08.22)
3D SHARK (Northern Irland)
A great award surrounded by great music...thanks to Northern Ireland for this presentation👍😎🌟