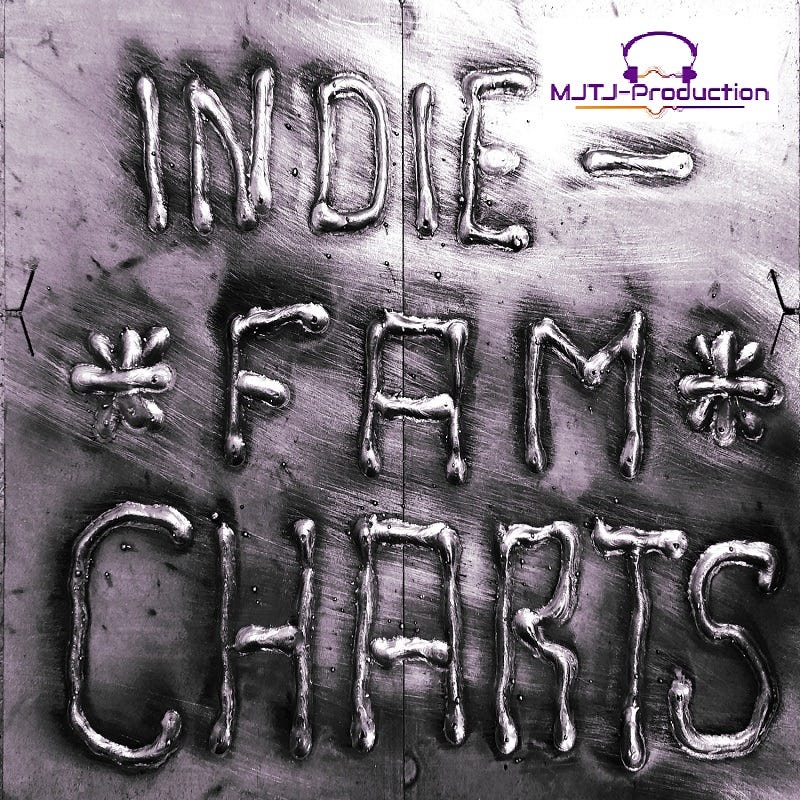 🚨NEXT : MARCH 2023🚨
INDIE-FAM-CHARTS

➡SUBMIT YOUR SPOTIFY TRACK HERE


➡ COME INTO THE TOP 20📈

➡VOTE FOR YOUR INDIE FAVORITES- EVERY DAY‼


➡ win the coveted INDIE*FAM*AWARD 🏆

➡ SEE THE CHARTS ON A SPOTIFY PLAYLIST AND HERE ON THIS WEBSITE

➡PLACES 1-15 STAY IN ... (NO LONGER THAN 8 WEEKS)-



Every 7 days there is a between evaluation and presentation of the current charts on twitter.

the last 5 placed are eliminated every week and are replaced by new artists.

(you can resubmit afterwards)



➡Voting always starts on the 1st of a month and ends after 4 weeks ...you will be tagged personally on twitter and will receive the link for direct voting 📊

interim result ➡ every 7 days ‼
After the voting (end of the month) a jury consisting of curators, artists and sponsors will determine the winner of the INDIE*FAM*AWARD's (the winner will be chosen from the top 3 winners of the whole month) 🏆
🌟INDIE*FAM*AWARD 🌟

➡Participation only makes sense with a valid twitter handle‼
➡The charts are updated every Sunday...The weekly interim results will be presented on twitter and each participant will be tagged🌟

T he winner will receive the award personally at home.✈


➡he wins attractive
free promo from our sponsors
(see voting page)

it's really worth it and there are no costs for you 😱
Attention...

only 5 new submissions will be considered each week...you will be notified by peer twitter or email if you have made the charts.
With a small voluntary donation here on the website you get an immediate participation guarantee ‼
Content from Spotify can't be displayed due to your current cookie settings. To show this content, please click "Consent & Show" to confirm that necessary data will be transferred to Spotify to enable this service. Further information can be found in our Privacy Policy. Changed your mind? You can revoke your consent at any time via your cookie settings.
Consent & Show
🌟INDIE*FAM*CHARTS🌟
Hello friends of good taste in INDIE music.
here you can see and hear the participants of the INDIE*FAM*CHARTS at any time.
Find the best indie musicians in this weekly voting playlist. From #POP to #ROCK #HIPHOP to #ELECTRO music, every genre is represented here. New every week and always up to date...enjoy it 👍😎🔥
Current Ranking
🌟INDIE*FAM*CHARTS🌟 January 2023
FRIENDS AND SPONSORS FOR :
PLAYLISTS /SUBMISSION/CHARTS/COMMUNITY/RADIO/BLOG/ MAGAZINE AND MORE... 👍😎
Blackett Music
A place to discover amazing creative works from artists of all mediums. Listen to popular musicians, explore diverse art, find amazing playlists, discover new authors, follow on social media, and be part of our truly supportive community!
MY INDIE RADIO
Welcome to My Indie Radio, The adventure starts here friends, with hosts and music-loving listeners. Unreleased recorded or live shows that you will hear anywhere else only on My Indie Radio.


My Indie Radio is an independent web radio that plays all kinds of music and international or local artists all day long. We are at your disposal for any suggestions.



Real Listige
Listige is the name of this playlist service! That curates democratically and automatically updated playlists, based on up voted/liked content from social media sites.

Listige is a non profit hobby project/service.